Mustangnews.net is a three-time winner of the Associated College Online Pacemaker award — attracting close to 1 million page views last year. The latest news is published on mustangnews.net around the clock, along with in-depth features, videos and interactive stories. This advertising space offers flexible dates, tracking features, and can be linked directly to your business.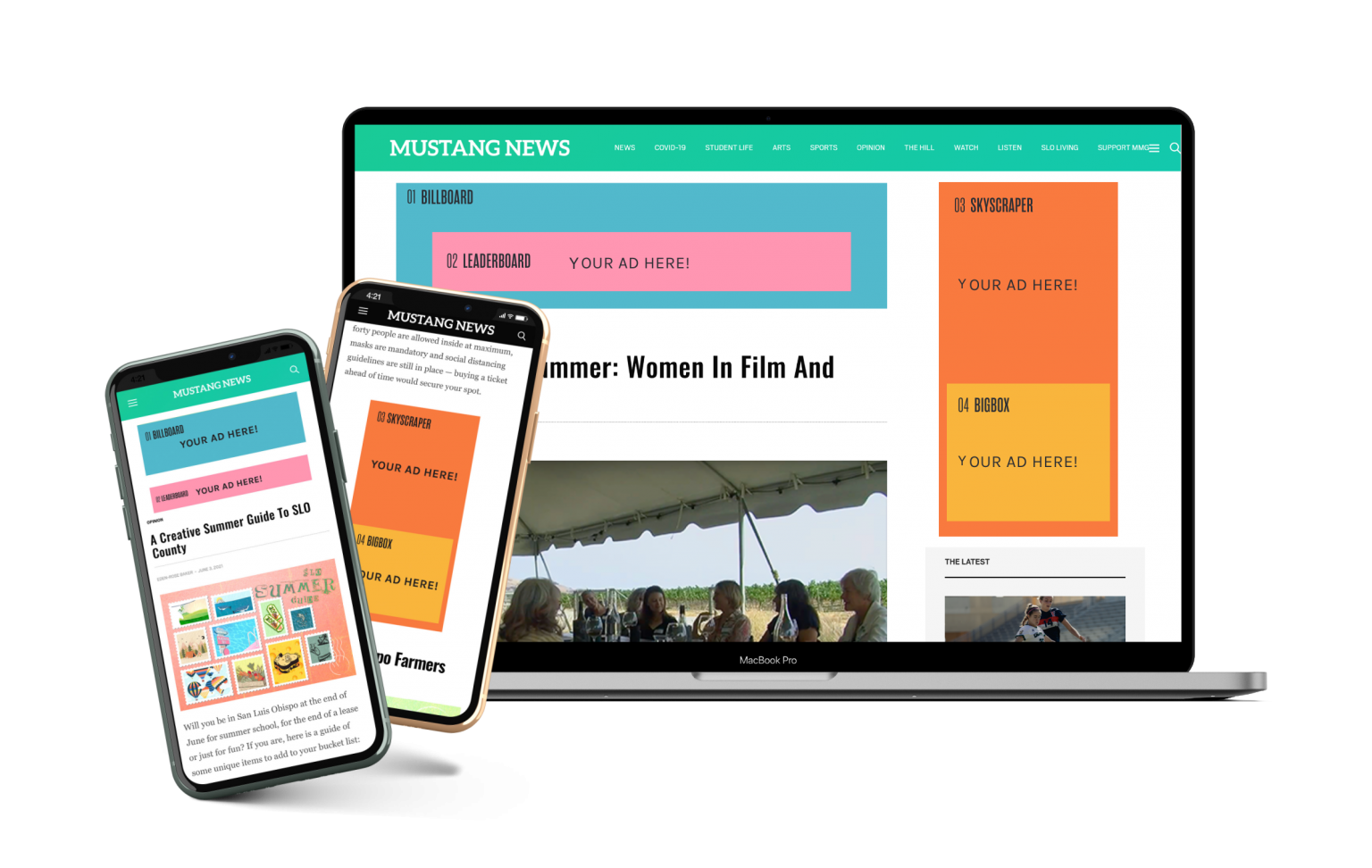 01 BILLBOARD
$560
Monthly ($160 Weekly)
970 x 250 px Desktop

320 x 100 px Mobile

*Displayed throughout the homepage and at the top of every article
02 LEADERBOARD
$480
Monthly ($140 Weekly)
728 x 90 px Desktop

320 x 50 px Mobile

*Displayed throughout the homepage and at the top of every article
03 Skyscraper
$400
Monthly ($120 Weekly)
300 x 600 px
Desktop & Mobile

*Displayed throughout the homepage and at the top of every article
04 Big Box
$320
Monthly ($100 Weekly)
300 x 250 px
Desktop & Mobile

*Displayed throughout the homepage and at the top of every article
Expand your Mustang Media ad campaign's reach and effectiveness by adding online formats and receive a 10%–20% discount off of your Digital advertising in the process.
Run in any special edition, get 10% off all online advertising running within 2 weeks of the special edition.
Run in a special edition and Mustang News within 2 weeks of the special edition's publication and receive 20% off all online advertising.
Take a look at how much your reach can expand with the addition of digital advertising compared to our monthly regular edition and quarterly special editions.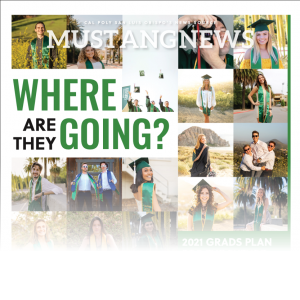 Monthly Edition Impressions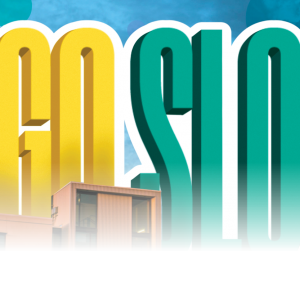 Special Edition Impressions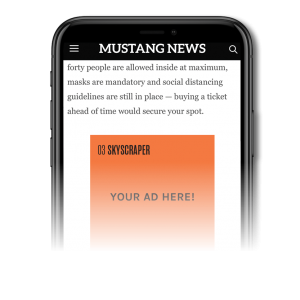 Digital Ad Impressions Per Week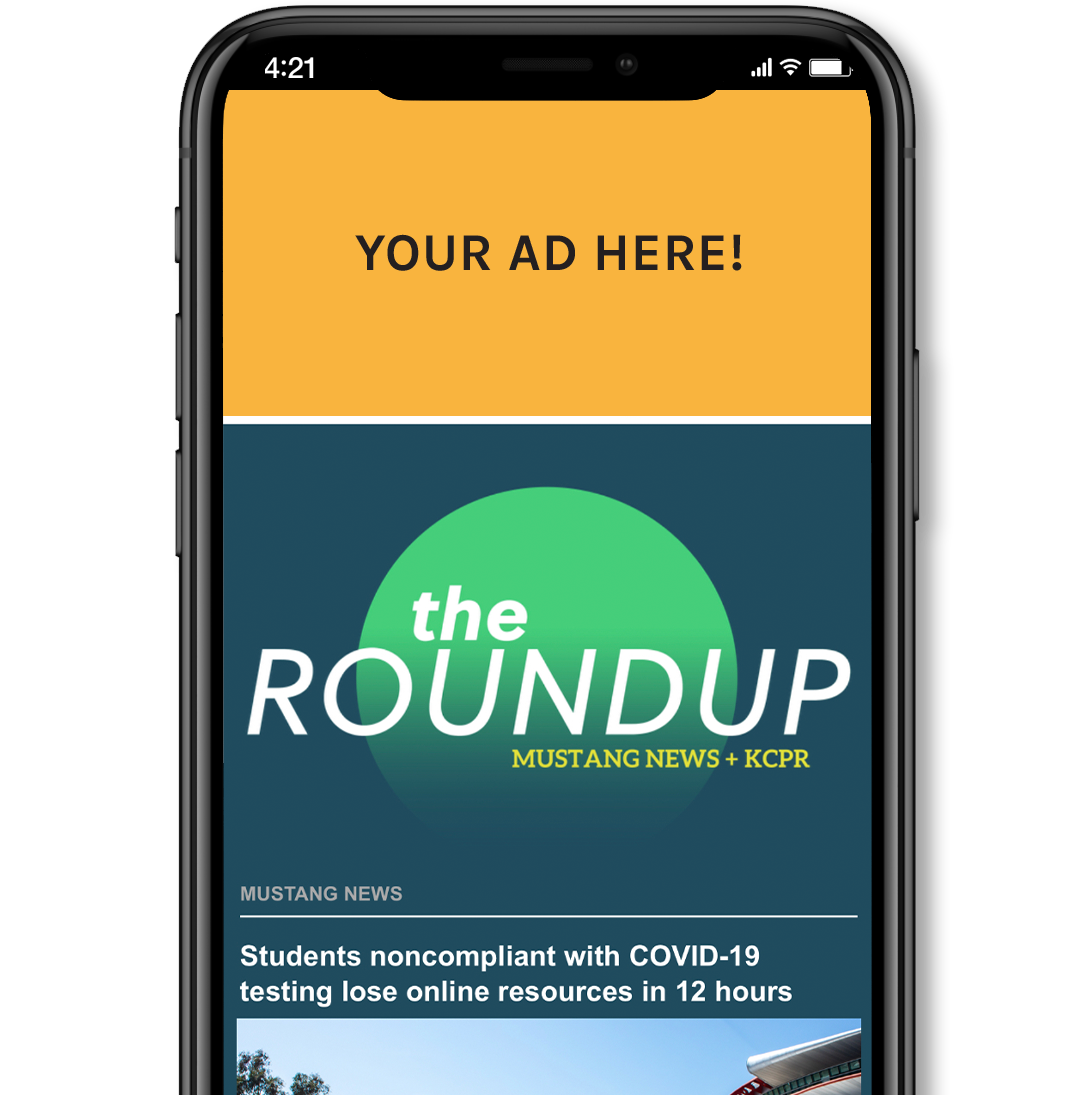 Reach out to over 4000+ subscribers up to 5 days a week with Mustang News' "The Roundup Newsletter". Published up to 5 days a week starting in the Fall this compilation of top stories and breaking news arrives in our subscribers inbox every morning. Reach out to your account executive for the latest rates and ad sizes.
$40 per day or $160 per week
Reach over 33,000+ followers through your preferred Mustang Media Group social media channels. Our social channels meet our audience where they are with bite-sized content that can be consumed on the fly. Our staff will happily assist you with the right artwork, message and the time and day to send your message out.
$200 for 3 posts from any of our outlets
+$60 for additional posts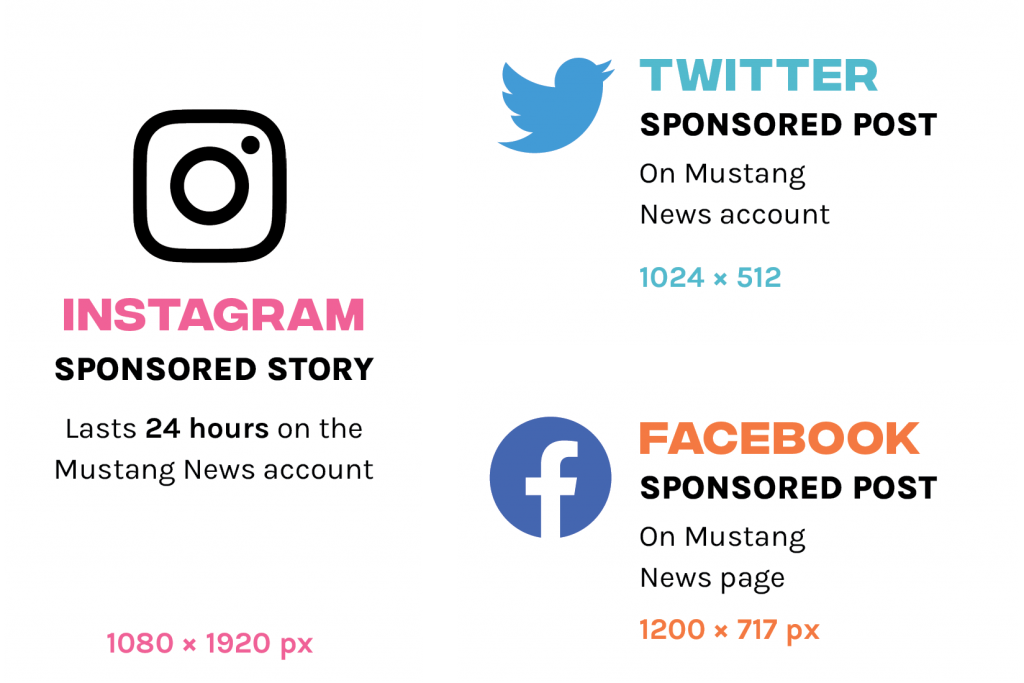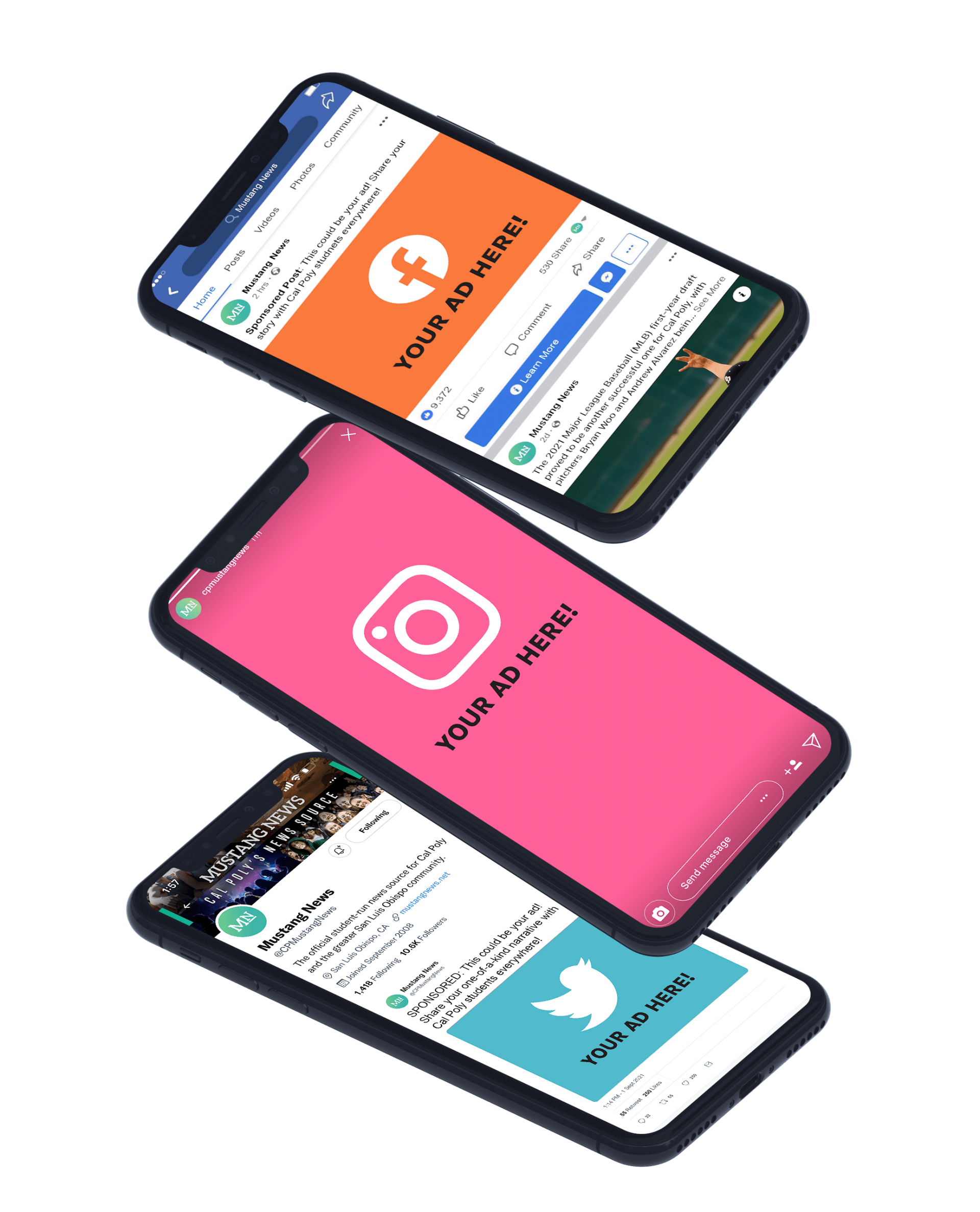 Leverage the power of Mustang News' reach with native advertising for your business that people want to read.
Branded content has the same feel as editorial content, but is built to feature your business or organization. Our creative teams work with you to build captivating stories that are published to Mustang News platforms. The result is content that people want to view, yielding higher engagement and click rates than traditional display ads.
The MMG creative team works with you to produce custom video content tailored to your business that students will want to watch. Videos are distributed online and on social media.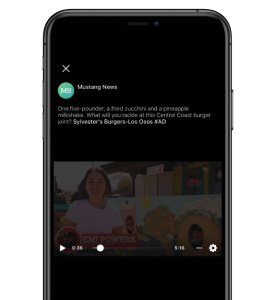 Comes with online article

Available for both special and regular editions. Clients must purchase the ad space in addition to the branded content article. Only MMG designers may design the print article layout.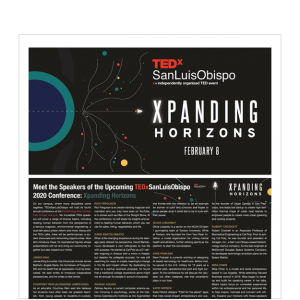 Online article for one branded content article, posted in the "Sponsored" section on MustangNews.net. This price also includes one social media post including the link to the article.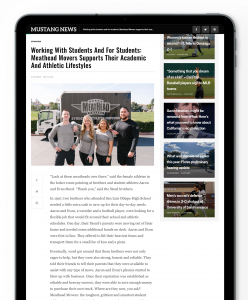 Feature your business/organization in our monthly published regular editions. Over 5,000 copies of our editorial-style print product are distributed the last Tuesday of each month — diving into stories affecting not only Cal Poly students but residents of San Luis Obispo as a whole. Distributed city-wide to students as well as residents.
In addition to our regular monthly Mustang News editions, we have quarterly special edition magazines that highlight specific and relevant themes to spark interest and engagement among readers. Some special editions include advertorial content where our advertisers can create and tell their narrative and story.
Ask one of our advertising representatives to see what we have brewing!
Buy into two or more
editions, receive 10% off
Special Edition + Digital/Social
10% off digital that runs within
two-week window of a special edition
Special Edition + Digital/Social
+ MN Monthly
20% off digital that runs
within the two-week window
Regular  & Special Editions
For ad space dates refer to the sales flyer provided by your ad executive; space varies by edition & artwork is due one week prior to print date. 
Ad space: sales flyer DATE AT 5:00 PM
Artwork: sales flyer DATE AT 5:00 PM
Artwork must be sent at 300 dpi.

No artwork from the web.

Color ads must be in CMYK format.

Black text must be solid black, not rich black.

We accept JPEG, PSD, AI, TIFF and PDF files.

If artwork is created in Adobe Illustrator, fonts must be converted to outlines.

Camera-ready artwork must be submitted by noon on the day of the deadline.

All submitted artwork must be licensed for commercial use.
If any advertisement is cancelled after space deadline MMG reserves the right to charge up to 50% of the total cost of the space reservation.
All advertising is payable in advance, unless the advertiser has completed a credit application and credit has been approved. Mustang Media Group reserves the right to withdraw or restrict credit.
After credit has been approved, the monthly billing cycle will close on the last working day of the month. Accounts not paid within 30 days of the invoice date are subject to a finance charge of 1.5 percent per month (18 percent annually).
If payment is not received within 60 days, credit is withdrawn. Payment in full must be received by the last business day of the month following the receipt of your statement. Mustang News accepts cash, check and all major credit cards. Make checks payable to Mustang News.
Mustang Media Group reserves the right to refuse or revise any advertising deemed to adversely affect the integrity and credibility of the newspaper as a source of truthful and accurate information, or be in conflict with the educational mission of the university community served. Mustang Media Group reserves the right to institute such other general policies as may be deemed appropriate at any time. Sole responsibility for the content of an ad lies with the advertiser who unconditionally agrees to hold Mustang Media Group faultless should claim arise, and to pay for any and all expenses incurred as a result of the publication of such ad. Should an ad not be published as ordered, Mustang Media Group's liability is limited to the amount paid for the ad.
All rates listed are non-commissionable (net) rates.